Are you seeking inspiration for your next promotion?
Look no further. At POP! Promotions we find inspiration in the most unlikely places and we believe a little imagination can go a long way.
The creative team at POP! Promotions are a talented group of image specialists and designers with decades of experience – we have the fresh ideas you've been looking for! We go beyond the basics by pinpointing what strategy best supports your objective, corporate image and determined budget. We are much more than a promotional products company; we are your promotional partner.
Whether you are looking for a specific product or just browsing for ideas, our site is designed so you can easily shop for the latest & greatest or contact us and we will do the searching for you!
We are here to discuss creative ideas and applications, to educate you on the products and services we offer, as well as inform you on recent product launches and current industry trends.
Contact POP! Promotions directly for current product or apparel pricing, inventory availability and freight estimates.
Featured Item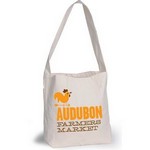 Grocery Sack Bag
Grocery tote with cool wide strap and a beatnik feel. Made from natural 10 Oz. canvas. 18" W x 16" H x 6" D
$6.6667 - $7.8431